Nuvo Dragos Residential Project Istanbul
Editor Team
Nuvo Dragos Residential Project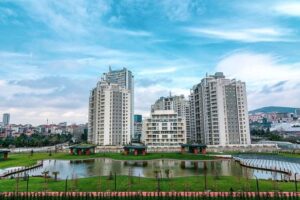 Nuvo Dragos, with its flats overlooking the view of the islands, whose title is delivered at the time of sale, gives those who want to invest the opportunity to become a homeowner by visiting and seeing, not from a model. Nuvo Dragos, which stands out with its double-bathroom apartments, large balconies, high ceilings, kitchens equipped with built-in products with the latest technology, is a solution to the needs of every family with a variety of 1 + 1, 2 + 1, 3 + 1 and duplex apartments.
Nuvo Dragos Price List at the 010.04.2022
Flat Type Price Range
1+1 1990.000tl 2200.000tl
2+1 3200.000tl 3900.000tl
3+1 4570.000tl 5700.000tl
Payment options
Bank loans can be used with a 30 percent down payment in the Nuvo Dragos project. Editor's Comment
Rental income: starts from 2 thousand 200 TL
Life continues in Nuvo Dragos, the most preferred project of Istanbul Maltepe Region, which offers the opportunity to live immediately with the advantage of resettled title deeds. In Nuvo Dragos, rising at a point with a view of the sea and the Islands, the sale of the last apartments continues. The rental income of 1 + 1 apartments in the project starts from 2 thousand 200 TL.
Nuvo Dragos, which is located in Maltepe, stands out with the development and investment opportunities of the Anatolian Side of Istanbul in recent years and accommodates all these conditions, is waiting for its new residents with historical opportunities.
Lowest-highest housing price: 700 thousand TL-2 million TL
Project Features
Site Features
Luxury Feature Outdoor swimming pool
Luxury Feature Indoor swimming pool
Luxury Feature Retractable swimming pool
Luxury Feature Children's swimming pool
Standard Feature Children's playgrounds
Luxury Feature Fitness Center
Standard Feature Security
Standard Feature Camera security
Luxury Feature Basketball Court
Luxury Feature Volleyball Court
Ultra Luxury Feature Tennis Court
Ultra Luxury Feature Sea view
Ultra Luxury Feature Pool view
Ultra Luxury Feature Islands view
Luxury Property Indoor parking
Standard Feature Social facility
Luxury Feature Sun Terrace
Standard Feature Vitamin bar
Building Features
Standard Feature Water Tank
Standard Feature Booster
Standard Feature Generator
Standard Feature Fire ladder
Standard Feature Elevator
Standard Feature Sprinkler system
Housing Features
Luxury Feature Built-in white goods
Standard Feature Central heating
Standard Feature Heat Allocation Meter
Luxury Feature Master bathroom
Standard Feature Shower Cabin
Construction Techniques
Standard Feature Building inspection made
Standard Feature Soil Investigated
Standard Feature Suitable for earthquake regulations
Complies with Standard Feature Insulation regulation
Standard Feature Raft foundation
Are you looking to purchase a property and need more information?
The Kale Kent Residential Project Istanbul
[wpforms id="3150″]