Top 10 Best Restaurants In Istanbul
Editor Team
Many of us who came to Istanbul recently or planning to come here for our vocation visit may wonder which are the best restaurants to visit, below is a list of best rated restaurants located at the Istanbul;
1 – Spago Restaurant & Bar – in Nisantasi
Located in Nisantasi, Spago Restaurant & Bar is under the leadership of master chef Wolfgang Puck.
offers its guests extraordinary tastes.
Serving as a terrace restaurant, Spago is quite beautiful with its Macka park and Bosphorus view.
It has a nice ambiance.
Address: The St. Regis Istanbul, Mim Kemal Oke Cad. No: 35, Nisantasi
Tel: 0212 368 08 08
Web: spago.thestregisistanbul.com
2 – Nicole Restaurant – Beyoğlu
Nicole Restaurant, a boutique restaurant located in the Tomtom neighborhood of Beyoğlu, is one of the favorite restaurants of Istanbul with its seasonal menus consisting of local and fresh ingredients, a cellar focusing on chateau-style wines, and an experienced service team.
Nicole Restaurant, which has the garden of the Italian Consulate and a terrace with a view of old Istanbul extending to the Islands, takes its name from Agnes Marthe Nicole, the manager of the historical building where Franciscan nuns healed the sick.
Address: Tomtom Mah. Tomtom Kaptan Sok. No:18, Beyoglu, Istanbul
Tel: 0212 292 44 67 , Web: nicole.com.tr
3 – Pokémate Restaurant – Nisantasi, Sisli

Offering a new generation sushi experience that you have never tasted anywhere before, Pokémate Restaurant is very popular as a unique and fantastic Hawaiian restaurant in Nişantaşı. The restaurant is located in the modern Nisantasi district of the city, within walking distance of Taksim.
The name Poké comes from the world-famous traditional Hawaiian dish in which 3 large sushi rolls are served open on a plate. It offers a concept where you can create your own Poké (Fresh Poke Bowls) in the restaurant and a healthy, fast and delicious way to cook your own sushi.
With a wide range of products, most of which are homemade, each visit is a pleasure. The restaurant also offers cooked versions of dishes for those who do not prefer raw products. There are also vegan and gluten-free options. You can also order online through their website.
Address: Teşvikiye Mah., Poyracık Sk. No:10/A, Nisantasi, Sisli, Istanbul
Tel: 0212 225 00 55
Web: pokemate.net
4 – Queb Lounge 360 Sultanahmet Restaurant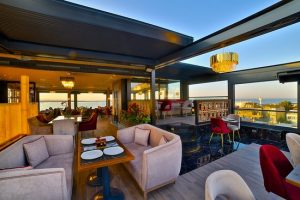 Queb Lounge 360 Sultanahmet Restaurant, in Sultanahmet on the historical peninsula, offers its guests a unique restaurant experience accompanied by panoramic views. Queb Lounge, which offers panoramic views to its guests with its close location to the Blue Mosque and Hagia Sophia Museum, is a terrace restaurant and cafe that makes its guests feel at home with its aesthetic and modern structure.
Here you can enjoy beautiful and delicious menus with a unique Bosphorus view.
Address: Cankurtaran Mah. No:29 Akbiyik Cad. The Byzantium Hotel terrace floor, Sultanahmet, Istanbul
Tel: 0212 458 08 80
Web: queblounge.com
5 – Kınalıada Teos Beach Restaurant – Islands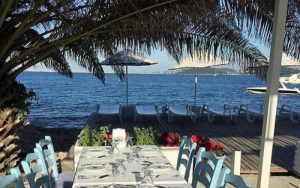 Providing service with beautiful views and a clean sea in Kınalıada, Teos Beach draws attention with its sea, seafood restaurant and event services. It serves as a Greek restaurant. The sea is calm and clear. Teo's beach usually serves the sea and restaurant during the day and entertainment programs in the evenings.
Address: Kınalıada Çarşı Cad. No:63, Adalar, Istanbul
Tel: 0532 651 44 10 ; 0537 851 24 22
6 – Emporio Ristorante – Beşiktaş

Emporio Ristorante & Emporio Pizza Pasta, one of the most popular Italian restaurants and pizzerias in Istanbul, offers its guests original recipes, quality ingredients and real Italian flavors collected from all over Italy. It has 2 branches in Akaretler, Emporio Ristorante and Emporio Pizza Pasta.
Welcoming its guests with the highest service standards, the venue meticulously offers the most delicious examples of traditional and modern Italian cuisine.
Address:
Emporio Ristorante -> Vişnezade Mah. Poet Nedim Cad. No:3, Beşiktaş, Istanbul Tel: 0212 259 44 34
Emporio Pizza Pasta -> Süleyman Seba Cad., Refik Osman Top Sk. No:11, Beşiktaş, Istanbul Tel: 0212 259 42 42
Web: emporio.com.tr
7 – Taylan Chef Steakhouse – Caddebostan, Kadıköy

Taylan Chef Steakhouse, which is one of the popular meat restaurants on the Asian side of Istanbul, is an intimate place in Caddebostan Kadıköy where you will feel very comfortable and taste one of the best meat dishes in the city. Chef Taylan is also a chef who received the "Best steakhouse brand of 2019" award.
Taylan Chef Steakhouse welcomes its guests with its boutique concept and warm atmosphere and offers a special service.
Address: Caddebostan, Baghdad exit, Kadıköy, Istanbul
Tel: 0216 339 54 56
Web: taylansef.com.tr
8 – Calipso Fish – Kucukyali
Located on the Küçükyalı coastal road on the Asian side, Calipso Fish Restaurant has been serving as one of the best fish restaurants in Istanbul since 2014 by its operators with 30 years of Seafood Gastronomy experience.
Calipso Fish Restaurant, which was awarded the "Oscars of Gastronomy" at the 17th Night Venue Awards ceremony held at Hilton Bomonti, offers fresh Aegean herbs, cold and hot appetizers, fish meticulously selected by anglers, uniquely delicious turbot tandoori cooked in a stone oven, shellfish with special sauces, and specialties. offers quality service to its guests with its dessert and wine menu options.
Address: Turgut Özal Bulvarı, Cumhuriyet Cad., No:2 Küçükyalı, Istanbul
Tel: 0216 489 28 58 , Web: www.calipsorestaurant.com
9 – 360Istanbul – Istiklal Street

360istanbul, located on the top floor of the historical Misir Apartment on Istiklal Street and which has many international awards, serves lunch and dinner from World and modern Turkish cuisine, accompanied by an impressive view of Istanbul, with a selection of wines and a rich bar menu.
Best Restaurants in Istanbul (Award-winning Venues + Recommendations)
Address: Istiklal Caddesi Misir Apt. No: 163/8, Beyoglu, Istanbul
Tel: 0212 251 10 42 – 43, 0533 691 0 360, Web: www.360istanbul.com
10 – Asmalı Cavit – Asmalımescit

Is one of the best taverns in Istanbul located at the narrow historical roads of Beyoğlu Istanbul, it's a sample authentic and very elaborate place even an award-wining tavern.
. Flavor takes precedence here. Meyhane meatballs, chops, grilled calamari, and liver are really different and top-notch.
Best Restaurants in Istanbul (Award-winning Venues + Recommendations)
Not to mention the appetizers. Octopus salad, sauteed haddock, sea bass marinated, fava, eggplant salad, roasted chard. The list gets longer and longer. If you are looking for a tavern worth visiting in Istanbul, Asmalı Cavit is for you.
Address: Asmalı Mescit Cad. No 16, Beyoglu, Istanbul
Tel: 0212 292 49 50