Taksim 360 Residential Project
Editor Team
What are the newly built and close to Taksim square residential projects?
Taksim 360 Residential Project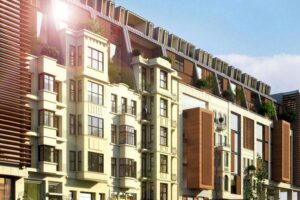 Taksim 360 project consists of residences, residences, and offices. The construction area of ​​the Taksim 360 project, which was implemented on a 20 thousand square meter land, was determined as 150 thousand square meters. In Taksim 360, which stands out with its 220-meter facade, the offices will be delivered at the end of 2016 and the residences will be delivered at the end of 2017.
16.05.2018 Taksim 360 Price List
Flat Type Price Range
1 + 0 starting from 490.000 USD
2 + 1 prices starting from 697.000 USD
3 + 1 prices starting from 1.600.000 USD
Payment options
In the Taksim 360 project, a 20 percent discount is applied within the scope of the campaign carried out jointly by GYODER-KONUTDER-İNDER, valid between May 15, 2018 and June 15, 2018. In addition, a 5 percent down payment and 0.98 interest rate mortgage loan is offered.
Editor's Comment
Tarlabaşı 360 project was named Taksim 360
The Taksim 360 project, which won Europe's Best Urban Renewal Project award, is being implemented as an urban renewal project in Beyoğlu Tarlabaşı. Taksim 360 project, rising on Tarlabaşı Boulevard, consists of 9 islands. Taksim 360 project, where historical buildings are restored and reinterpreted with contemporary architecture, draws attention with its location. The name of the project, which was first put up for sale under the name Tarlabaşı 360, changed to Taksim 360.
Lowest-highest residence price: 490 thousand dollars-2 million dollars
Project Features
Site Features
Standard 24/7 Feature Security
Standard Feature Camera security
Luxury Property Indoor parking
Standard Feature Center satellite system
Building Features
Standard Feature Water Tank
Standard Feature Booster
Standard Feature Generator
Standard Feature Fire Escape
Standard Feature Elevator
Housing Features
Standard Feature Central heating
Standard Feature Heat Allocation Meter
Luxury Feature Central air conditioner
Luxury Feature Terrace
Standard Feature Balcony
Construction Techniques
Standard Feature Building inspection made
Standard Feature Soil Investigated
Standard Feature Suitable for earthquake regulations
Complies with Standard Feature Insulation regulation
See Also
The Avrupa Konutları Yamanevler Project
Are you looking to purchase a property and need more information?
[wpforms id="3150″]