Getting Appointment For COVID-19 Vaccine In Turkey
Editor Team
How to Get COVID-19 Vaccine Appointment In Turkey or Getting Appointment COVID-19 Vaccine In Turkey 
HINT: You can also use Google in page translator while using Turkish Government websites
The coronavirus vaccine appointment process is curious. While the coronavirus vaccination process continued at full speed, 5 million 813 thousand 617 people received a second dose of the coronavirus vaccine. 'How to get a vaccination appointment?' His search became more frequent. So, how to get a covid vaccine appointment? Here is the MHRS and e-Devlet vaccine appointment screen…
Health Minister Fahrettin Koca made this statement last week by stating this week:
Appointments during the vaccination process for those who are in the coronavirus risk group, will be made at www.mhrs.gov.tr The results of the application will also be sent to the phones via SMS.
COVID-19 Vaccine Turkey Table (Yaş) means age

HOW TO MAKE A VACCINE APPOINTMENT?
It is possible to reach Turkiye.gov.tr ​​or e-government mobile applications by logging in and typing MHRS in the search section and making an appointment for the coronavirus vaccine. Coronavirus vaccine application procedures can also be made via e-Devlet e-Nabiz, MHRS mobile applications.
CLICK FOR THE E-GOVERNMENT LOGIN SCREEN
If the person is in the priority group to be vaccinated, they are directed to the MHRS application for the appointment process. With the application, an appointment can be made from the selected health institution by specifying the date and time. Appointment information is sent to the person's phone via SMS.
HOW TO MAKE A MHRS VACCINE APPOINTMENT?
To make an appointment from MHRS Web; If you do not have a membership record before, you can complete your membership process by clicking the "Kaydet" option on the screen that appears after clicking the "Make an Appointment" button. If you have a membership, you can create your appointment by choosing the hospital and physician you want with your ID number and password.
1 – You can open e-Devlet and then type (Merkezi Hekim Randevu Sistemi)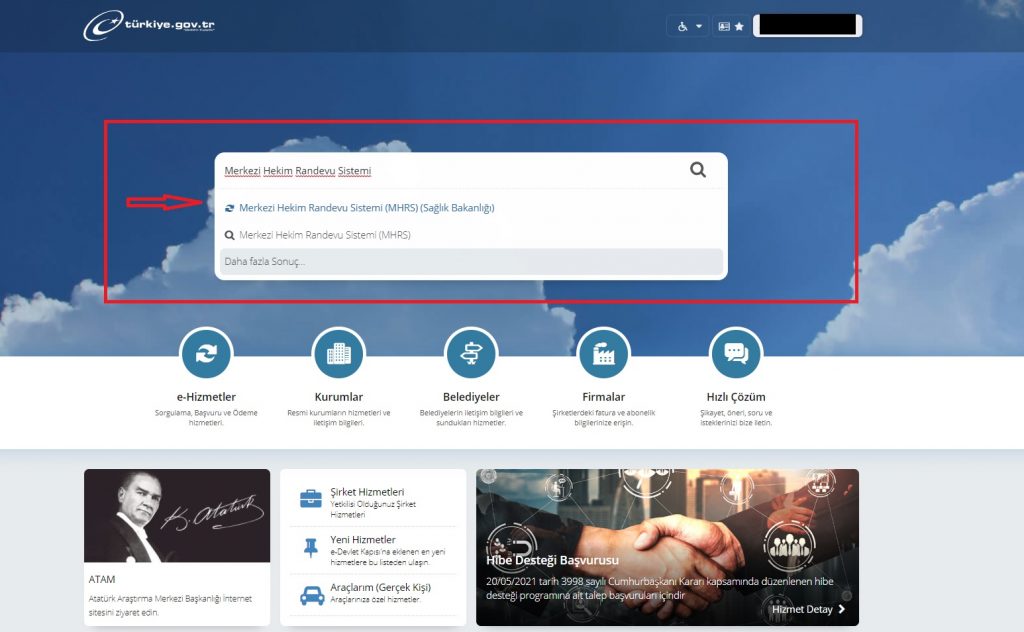 2 – Click Here and Go to the MHRS Website 
3 – Enter all of the information and Click on the Kaydet bottom as is shown in the Picture, 
As I mentioned before you can always use Google in Page Translator for using Turkish Government websites in English 
In order to make an appointment on MHRS mobile, you can download the MHRS application from the application market of your smart device and create an account it if you do not have a membership record l.
For Coronavirus vaccine appointment, after logging into the system, you need to enter the necessary information by clicking "General Search" and then the "Covid-19 vaccine" option through the "Make a hospital appointment" option.
HOW TO MAKE A VACCINE APPOINTMENT BY PHONE?
Citizens & Residence who will be vaccinated against Covid-19 can get their vaccination appointments by calling the ALO 182 line as well as the mobile application or the internet.
Residence can make appointments for the closest family medicine clinics and all public, private and university hospitals.
CAN I MAKE A VACCINE APPOINTMENT OUTSIDE THE WEEKEND AND WORKING HOURS?
A statement about vaccination appointments was made on the Twitter account of the Ministry of Health. The following statements were made in the statement: "You can get the Covid-19 vaccine outside of working hours and on weekends by making an appointment at all hospitals. To check your vaccination order and make an appointment, visit http://enabiz.gov.tr ​​and http://mhrs.gov.tr You can visit addresses or use their applications." it was said.
HOW TO LEARN VACCINE PRIORITY STATUS?
You can also try the mobile phone SMS system to check for your vaccine turn, by Sending SMS to 2023 by entering ASI <Space> TR ID NUMBER <Space> TC  ID Seri NO LAST 4 DIGITS.
Useful Link : e-Devlet (e-Government) – IQAMET®