e-Devlet (e-Government)
Editor Team
What is e-Devlet?
How can I use or activate e-Devlet?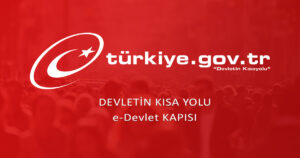 e-Devlet (e-Government) In Turkey
Turkey's government website is called e-Devlet (e-Government), at https://www.turkiye.gov.tr/, which offers a variety of public services to Turkish citizens and foreign residents with a single website. If you're planning to live in Turkey, you should join e-Devlet.
What is e-Devlet?
E-Devlet (e-Government) is Turkey's online website where you can get information about the government and its various offices and programs (both national and local), pay taxes and other bills, and download official e-signed documents which concern you. Because these documents are e-signed, they require no further authentication, so they're ready to use in application packages for residence permits, driving licenses, or anything else which requires a certified copy of a government record. You can join e-Devlet at any Turkish post office.
How to Join and Use e-Devlet
As soon as you have a yabancı kimlik numarası (foreigner identity number, or YKN), which you're assigned when you get your residence permit, you can join e-Devlet. Your YKN is on the front of your residence permit card. You can join at any branch of the PTT (post office). Here's how to do it.
Go to the PTT with your residence permit, your passport, and your mobile phone. The clerk will enter your mobile phone number and your identity information into the e-Devlet system.
Pay the fee of ₺2.00.
You'll receive a temporary password by SMS message.
On Your Desktop, Laptop, or Mobile Device
Access e-Devlet from your desktop or laptop computer, or from your smartphone by downloading the e-Devlet application from your smartphone's app store.
Use your foreigner identification number as your username, then enter your temporary password.
Click Giriş Yap (Enter). You'll see a page, in Turkish, saying Şifrenizi değiştirmek ister misiniz? (Do you want to change your password?).
Click Evet, şimdi yeni bir şifre belirlemek istiyorum (Yes, I now want to create a new password) to change it, or
Hayır, şifremi kullanmaya devam etmek istiyorum (No, I want to use my current password) to not change it.
Click Giriş Yap
Once you've joined, have a look around the site. You may not need to use it just yet, but once you see how it's laid out and all the things you can use it for, you'll feel a lot more comfortable with it when you do need it.
How to Change the Language to English
Go to the home page of e-Devlet. Look to the bottom left. Under e-Devlet Kapısı (e-Devlet Entrance), select "English." Not all of the site is in English, but it will help. Otherwise, you can view it with the Chrome browser, using the Google Translate add-on, and translate it that way.
Learn how to use the Google Chrome Browser with the Google Translate Extension.
Things You Can Do with e-Devlet
Below are the most common things you might need e-Devlet for. There's much more, so also go to the home page and visit the various categories and subcategories of all of the services e-Devlet offers.
The following links go directly to the associated page e-Devlet. If you're not logged in already, the system will prompt you to do so. As soon as you log it, the system will return you to the page.
Create your HES code for tracking and tracing during the COVID-19 Pandemic
Foreign mobile phone, including registration and paying the tax
Home phone and mobile phones
Court cases you're involved in
Fines for the HGS highway toll system
Social security status
Check your government health insurance status
Pay your government health insurance bill
The real property you own
Tax liability and payments
Fines you owe, including traffic fines
Vehicles registered in your name
Registered address information
Criminal record
Hospital appointments
Country entry and exit dates
Source :
https://www.turkeycentral.com/guides/government-law/e-devlet/