Turkish Residence Permit (TRC) Application Tutorial Step By Step
Editor Team
Turkish Residence Permit (TRC) Application Tutorial Step By Step
First of all, make sure that you have prepared all of the Required Documents including your private health insurance biometric photo soft version.
1 – Open the immigration e-ikamet website from your laptop, tablet, or mobile phone
e-ikamet website has a total of 4 languages you can choose from the top right side of the page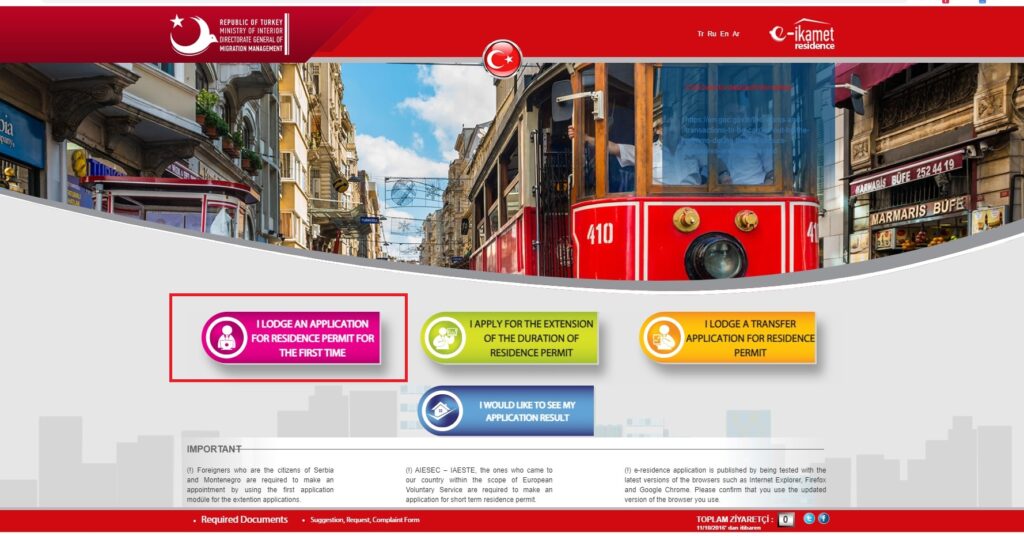 2 – Click on I LODGE AN APPLICATION FOR RESIDENCE PERMIT FIRST TIME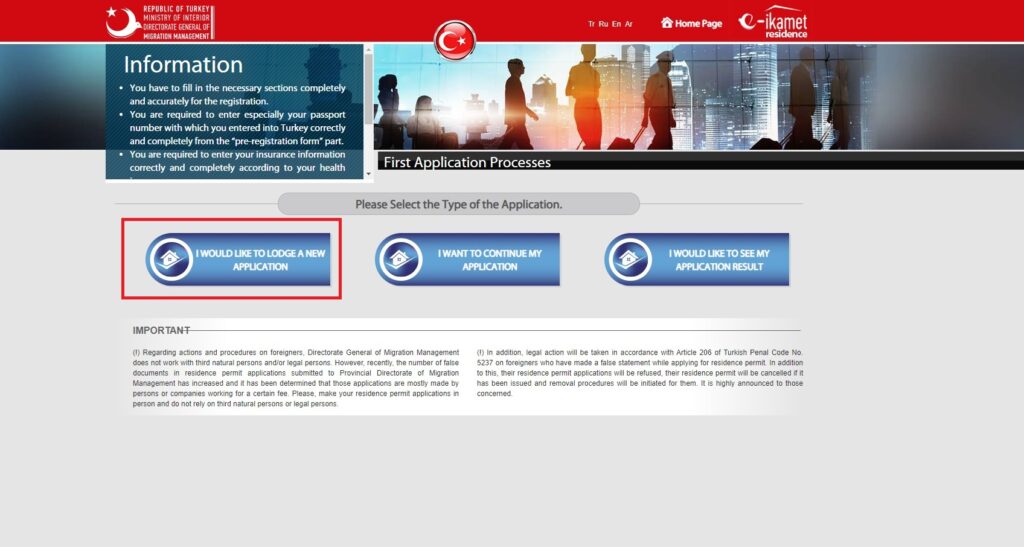 3 – Click on I WOULD LIKE TO LODGE A NEW APPLICATION
Keep in mind that you will only need to fill a field that has a red color and means it's mandatory the remaining fields are not necessary
1 – Enter Your Name According to Your Passport
2 – Enter your last name according to your passport
3 – Click on the calendar icon and choose your date of birth
4 – Enter your father name
5 – Enter your mother name
6 – Choose your gender
7 – Select your nationality
8 – Enter your passport number correctly
9 – Choose the main communication preference, in this section, it's always better you use an email as your main communication preference, suppose you lose your SIM card or you fail to register it at the time and it will be blocked you might miss update and notifications about your residence permit application.
11 – Make a tick on the I READ AND UNDERSTOOD
12 – Enter the captcha code, sometimes the browser might not display a captcha code and you will see a black box with X tick, it's happening due to the browser incompatibility you can try to open e-ikamet website from an updated or different browser and it should fix the problem.
13 – Finally click on the save.
After Saving you will receive an email including a link to continue your application with a verification code.
4 – Open and the link and enter the application verification code,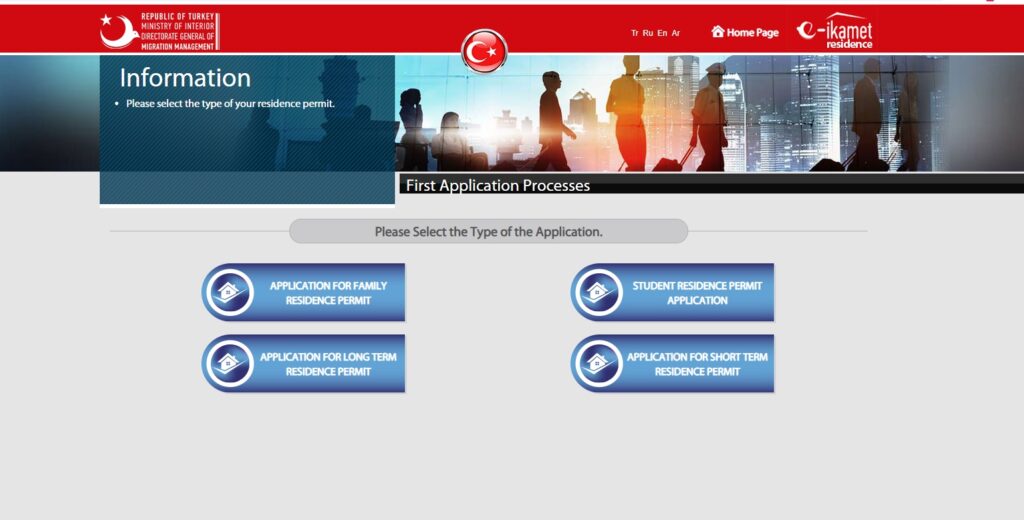 APPLICATION FOR SHORT TERM RESIDENCE PERMIT are classified into the following types
Those staying for tourism
Those applying for real estate residency
Those applying for TOMER course residency
etc…..
If you want to apply for your family kids or wife residency you can follow the APPLICATION FOR FAMILY RESIDENCE PERMIT
5 – Personal Information 1
1 – Check your name
2 – Check your last name
3 – Check your father name
4 – Check your mother's name as well.
5 – Here you should upload a soft version of your photo that meets the biometric standards. if the system does not accept it you cannot go further and you need to provide ICAO standards photo.
Click Next
6 – Personal Information 2
As We mentioned at the top of the paragraph only red-colored fields are necessary.
1 – Check again your gender
2 – Check your date of birth
3 – Check your marital status
4 – Select your nationality
5 – Option applies to those married to a Turkish citizen, if you did not you should select No.
Select the nationality at the birth
6 – And the country of your birthplace.
Click on the Next to proceed to another page
7 – Travel Documents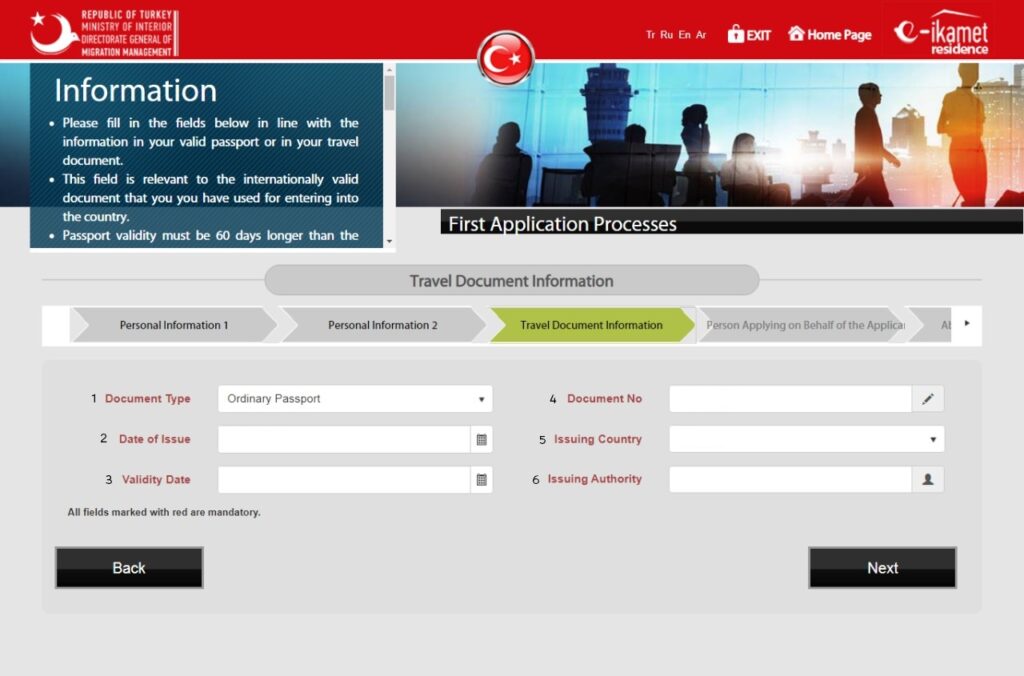 1 – Usually passport types We are holding are ordinary passports but if you have a special passport select it accordingly.
2 – Click on the calendar icon and choose the date of issue for your passport, check these details carefully because if it does not match with your passport you cannot go ahead for the next stages.
3 – Passport validity date
4 – Passport number
5 – The issuing country
6 – Issuing authority for your passport
Click on the Next 
8 – Person Applying on Behalf of the Applicant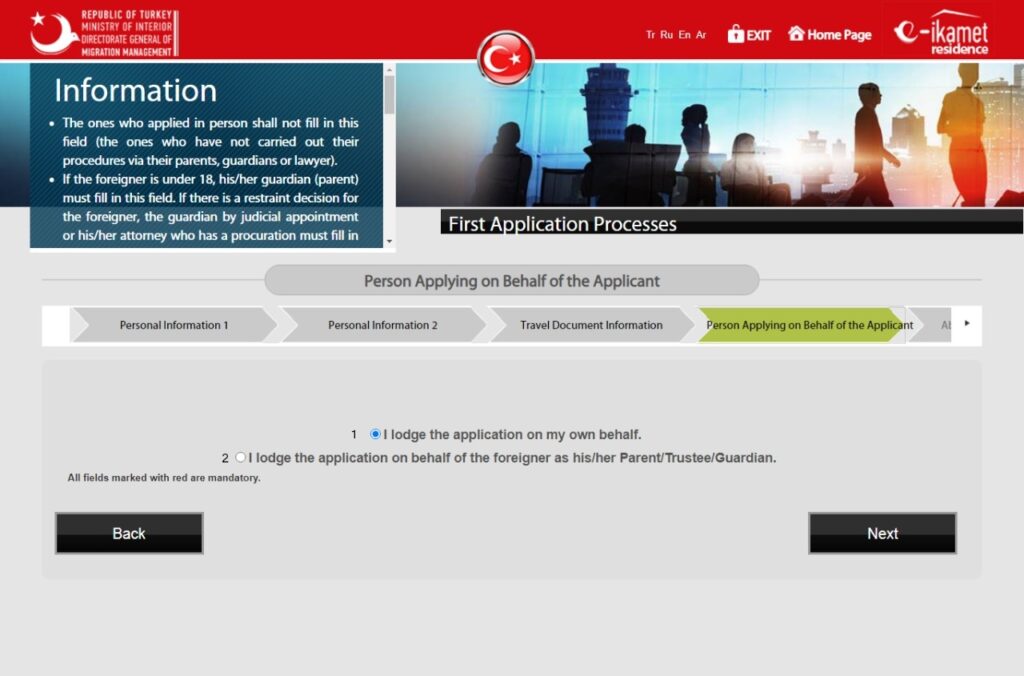 1 – If you are applying for your application select this option.
2 – lawyer of attorney applying on behalf of someone else will need to select this option.
Click on the Next
9 – Aborad Contact Information
On this page, you will need to enter your abroad contact information, it's better to enter valid contact details also carefully in case maybe the immigration office needs to contact you so they can reach you.
10 – Contact Details in Turkey
According to your rental contract, you can fill in the contact details in Turkey, if you face difficulty filling the address, for example, the district, main road I highly recommend you to open Adres Kayıt Sistemi
1 – Province is Istanbul, Ankara any other province you live,
2 – District is İlçe in Turkish, for example, Kartal/Istanbul,  Bakirkoy/Istanbul,  Mamak/Ankara etc.
3 – District or Village is the area you live in, after district, there is always another name used for the area, for example; Beyoğlu/Cihangir Mah.
4 – Main Road, it's the road name next to your apartment even if you open Google map you can find small road names if you choose the wrong main road name the building and your apartment will not appear in the next section 5
5 – In this section, if you choose the correct Main Road you can find the apartment number it means the building number, not the unit number keep in mind.
NOTE: I highly recommend first open your address in Adres Kayıt Sistemi and check in the map if shows the correct coordination.
6 – Select the unite number in this section, once you did it will be shown like this;
Now Enter a phone number with your email and click on the Next
11 – Work Information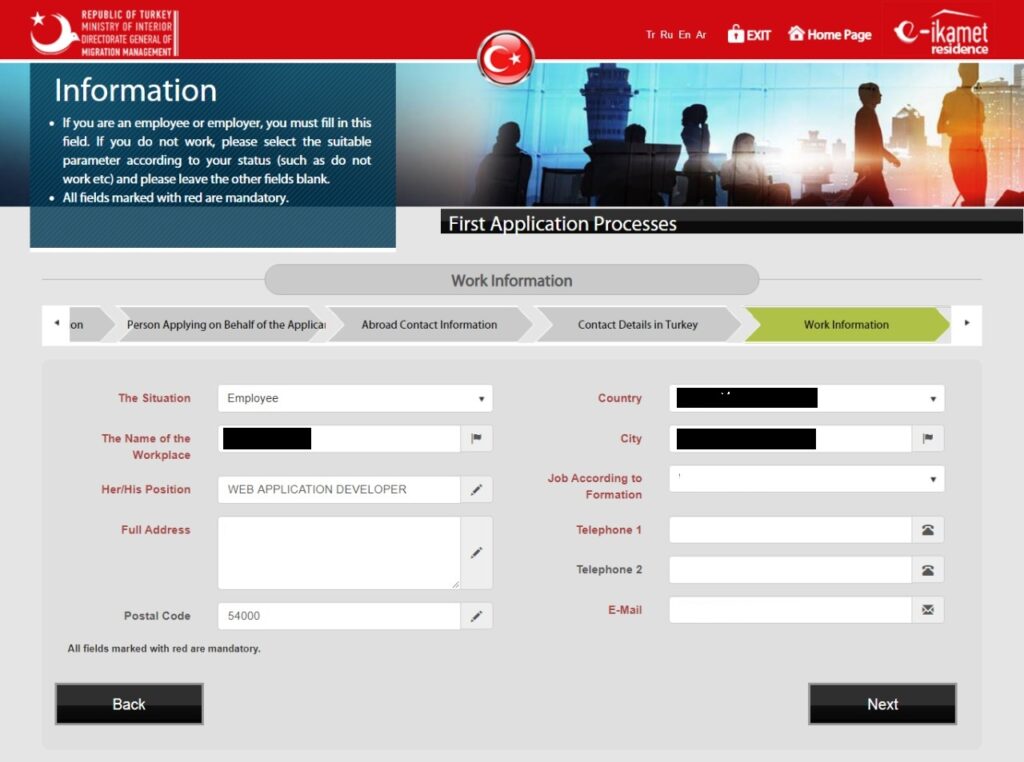 On this page you can always simply Select I'm not working, but if you have any remote-jobs,s, etc… You can select Employee and write further details,
Click Next
There will be education information that is only required for a student residence permit and you can simply SKIP.
12 – Income Information
On this page, you are declaring your income but keep in mind you should always select your income at least equal to the amount minimum wage in Turkey.
You can write a source income for example retirement, home rental, remote job, etc, and also your income amount, it's just a simple declaration immigration office will not ask you for further documents.
13 – Information on Insurance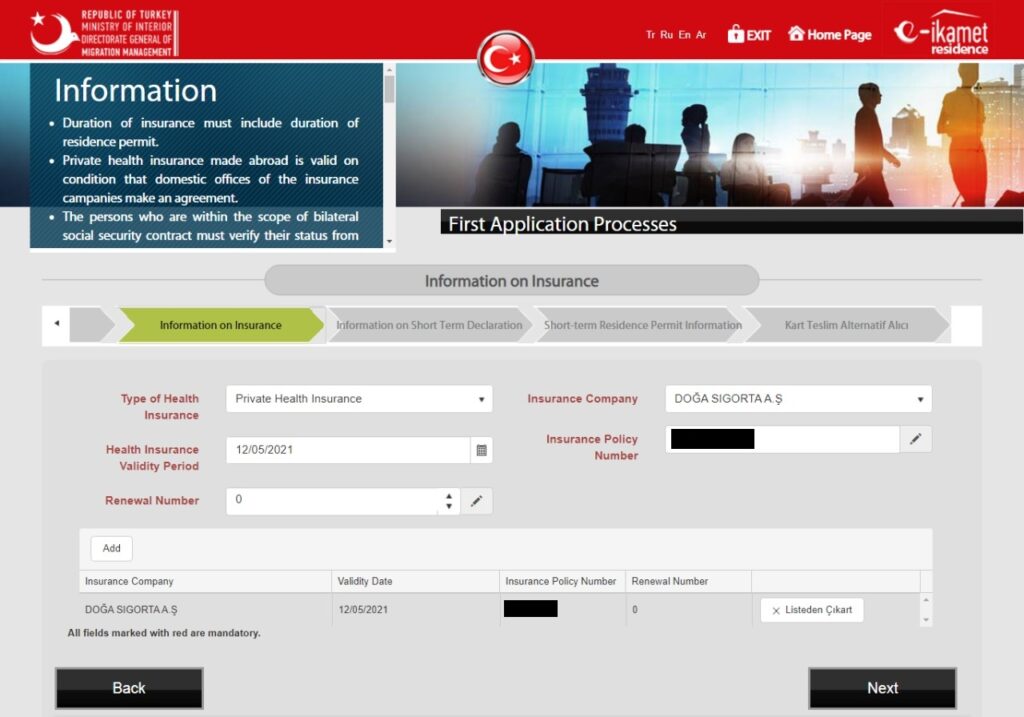 The type of Health Insurance is usually private.
Write the Insurance company name with Turkish Latin alphabet
Enter the Policy number >
Renewal Number, if it's your first application and it means you did not renew your insurance so you can write 0
After that, an insurance signed forum will be added in the bottom of the page automatically like in the photo, you can press Next!
14 – Website Errors
But most of the time the Website will crash because it has a glitch in the English language just try again and again by the open e-ikamet website and select I WANT TO CONTINUE MY APPLICATION, you can also change the site language to Turkish for this section only. and it will work 100%.
15 – Self Declarations 
Read each of them carefully and make a tick on red texts boxes click on the Further
16 – Short-term residence Permit Information
On this page you should write a reason for your stay, please try to make it not too much short or long, only write a clear paragraph
You can select a reason for;
Staying tourism purpose
Real Estate ownership
Studying TOMER course
etc….
Select reason based on your residency requirement
Write your request period, tick I have read, Understand, and Accept click on the Complete
NOTE: if you write longer duration than one year the immigration office will not accept and they make it for one year only for the first applications.
On the next page, you can make your appointment select the district and once it's done you can print your application forum. you will receive an email or SMS for your appointment date within 15 – 30 days.
If you have any questions, you can comment below and We will try to reply, also if this post is being helpful for you, please share it and write a comment below!
See Also;
Residence Permit Required Documents